Best Shaving Cream for Men 2022
Choosing a shaving cream these days isn't as easy as it used to be. The market is flooded with products, each one claiming that they have "the best shaving cream for men on the face of the earth!"
Once you get past the fancy packaging and everyone's claim to the greatest product, the quality of the ingredients used to make the cream and the quality of the shave that you get when using it are what really matter.
This is exactly what we'll help you determine in our list below. By highlighting the ten best creams, we show you what to look for when shopping for a new shaving cream.
You want what thousands of men have already tested and had success with, which is exactly what you'll find here!
Things to Consider
In order to select the right shaving cream, here are a few things you should consider:
Skin Type. Do you have dry, oily, mixed or sensitive skin? Look for an appropriate cream for your skin type.
Those with sensitive skin should be especially careful. Stick with all-natural creams that won't irritate your skin. Check out number two below if you have sensitive skin.
Scents. While some enjoy the woody smells of cedar and sandalwood in their facial care products, these artificial scents can sometimes irritate the skin.
If you like scented shaving creams, make sure they won't clash with the other scented shaving products you use.
Numbers two, five nine do not contain any added fragrances.
Top 10 Shaving Creams Table
Paraben-Free
You'll see the term "paraben-free" proudly displayed on the front of a lot of skin care products.
Parabens are a type of preservative that are highly debated in the scientific field, many claiming that they are linked to serious illnesses.
No matter what the studies and facts prove, a paraben-free product is always the safest choice! Eliminate and doubts or potential risks by choosing products without parabens.
Check out numbers two, seven
Approach Your Shave With Care
Think about it. You're raking a very sharp blade across your face as you remove unwanted facial hair.
This can take quite a toll on your skin and that is exactly why you need a protective layer over it.
In order to shave safely, approach it carefully from start to finish.
You need to prepare your skin before you lather and apply the cream.
Always start by washing your face with your favorite facial cleanser and then rinse.
While your face is still damp, lather up the cream and then apply it to your face, letting it sit for a few minutes before you start shaving. This softensthe facial hairs and will help the razor slide smoothly across you face without catching on the hairs.
If you have to tug on your razor during the shave, then the hair are probably too stiff or the razor blade is the wrong type for your beard.
After you shave, pat your skin dry.
Pat, pat, pat! Do not rub it. You've just spend so much time gently preparing and shaving it, that rubbing it with a towel is like taking sandpaper to it.
Avoid harsh aftershave sprays that contain alcohol. You'll probably do best with a nice moisturizer to help keep your skin supple rather than burning it with harsh chemicals.
If you're in a hurry, chances are you'll cut yourself and irritate your skin by not prepping it and by running the razor over it too quickly.
Pour yourself a glass of scotch and turn on some B.B. King as you treat yourself to a relaxing, manly shave.
Top 5 Best Shaving Cream for Men Reviews
Those who are looking for that classic shaving cream scent will look no further that Truefitt & Hill's 1805 Shaving Cream. It has that spicy, woody aroma that will make you feel like your bathroom is a professional barbershop.
A little goes a long way with this cream. Lather it up, brush it on your face and let it soften your facial hair before you start shaving. It hydrates and lubricates your skin, leaving you with a fresh, smooth feel once you're done. It helps the blade get closer
This is a solid shave cream that many will gladly pay extra for. Sure, you can find less expensive creams out there, but this is definitely one of the best our list.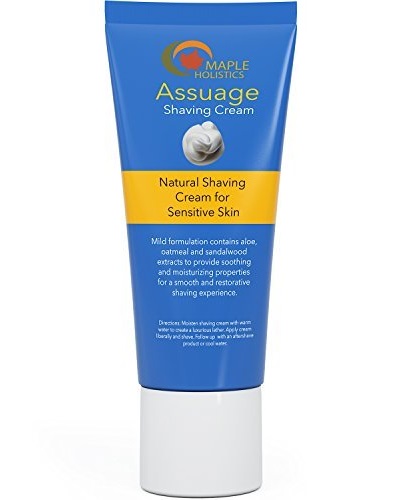 Those of you with sensitive skin absolutely need to try this cream from Maple Holistics. It's made with oatmeal, aloe and sandalwood extracts that help nourish and moisturize your skin as you save and it is fragrance-free. What you smell is the natural scent of the materials used in it!
It is a skin-friendly hypoallergenic cream that's sulfate-free, paraben-free and cruelty-free.
Guys, hide this from the ladies in your home! Once they try it, they might just claim it for themselves. It's such a great product that everyone will want to use it!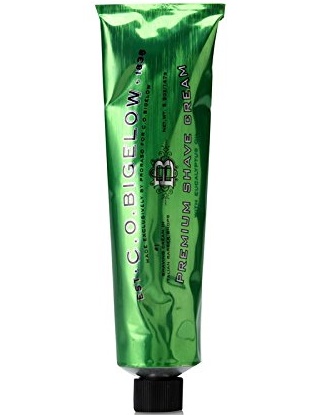 You'll love the feel and the smell C.O. Bigelow Shave Cream on your skin.
The refreshing smell of eucalyptus oil is just the wakeup call you need for those early morning shaves. It allows you to get a close shave with very little lather, which means you won't need excessive amounts of product to get you through your shave. Use it with a brush or work it into your whiskers with your fingers, either way it will give you a nice lather.
Affordable and smells great. Try a tube!
This is another classic shave cream that is made in England (number one on our list is also made there).
It has a lovely sandalwood and cedar scent, with top notes of lavender, rosemary, jasmine and roses.
It has quite a few of those "hard to pronounce" ingredients that those wish sensitive skin should avoid, but a lot of guys absolutely love this cream. You can also find it in other scents if you don't like this one, and they do make natural and organic formulas, as well.
Bottom line: if you don't usually spend much on shave creams and aren't sure if this is worth a try, we say go for it. It's the best shaving cream for men who love the sandalwood fragrance. Very masculine!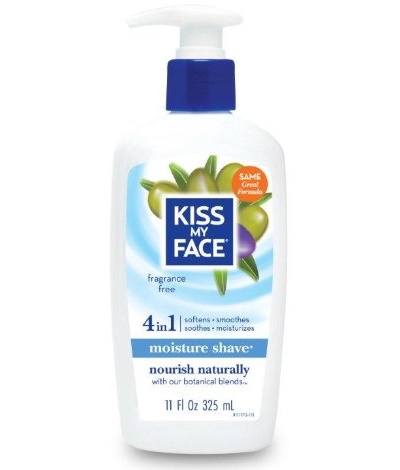 No, we're not asking you to kiss our face, but we think others will want to kiss yours if you try this moisturizing shave cream!
This all-natural cream is made from olive oil and aloe vera that will soothe and moisturize your skin, and it has refreshing lemongrass and orange flower that will give you a natural, fresh-out-of-the-shower smell.
While it is fragrance-free, some aren't as fond of its natural scent and it is recommended that you use it while in the shower.